Danielle is an ecologist and anthropologist specializing in rural household livelihood systems. Passionate about sustainability and spreadsheets, she learned to crochet from her Italian great-grandma when she was five years old. She is originally from America, but has worked everywhere from a wetland on the Nicaraguan border to a millet farm in the Malian desert, and currently lives in Dakar with her family.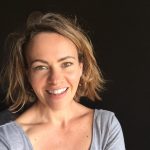 Kari uses words to make things happen. She's a writer, editor and photographer with experience in many areas of communications, ranging from editing magazines to project launching, to managing social media and web content for non-profit organizations and businesses. In 2011 she started Dakar Eats, a website for foodies and food news. She's an American, raised in Côte d'Ivoire, then worked in France and is now at home in Senegal.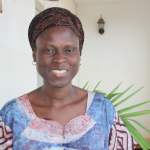 Oureye is by far the most valuable member of our team. She is both the inspiration and the driving force behind Kayoong Community. She is the founder of a community support group for widows, like herself, and is the mother of three boys who currently live in an orphanage 10 hours away. Once she is able to save enough money (and she is well on her way!) she will be able to reunite her family.
Fatou is a single mother of a beautiful daughter. Her daughter is being raised by extended family more than 10 hours away from where Fatou lives in the capital city of Dakar. She moved here several years ago to find work and was one of the first to join the Kayoong team and works with a radiant smile and bright laugh.
Binetou suffered an illness at the age of three that left her unable to walk. To this day, she cannot leave her home easily. Being able to earn a living from her home allows her to provide for the needs of her school-aged son. Her rugs are unique as she is our only left-handed crocheter!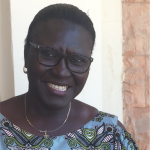 Juliette is originally from the Casamance region but has lived in Dakar many years. She is active in the Catholic church and is a trained cook. Making the Kayoong baskets is a side-job for her that allows her to save money for her future.
Edwige is the primary provider for her son and caregiver for a young granddaughter. For most women, this would more than fill their days. However, she must also work outside the home in order to meet their needs. She began crocheting for Kayoong while employed part-time as a house cleaner and is now making the very popular designs used by Bags by Lucy's current collection, featured in the 2019 Dakar Women's Group Fashion Show.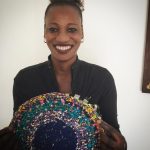 Gnima, with baby Cheikh on her back, has just completed training to make our new decorative layu rounds and will be starting her first rug soon!
SaveSave